We are pleased to announce (although it has popped up in our "SHOWS" section on this site) that we will be playing Reel Music Festival on April 8th in Oshawa! We're stoked to be able to play alongside some new friends in Howl Said The Wolf, cleopatrick, and to rejoin our good friends Polarity on stage.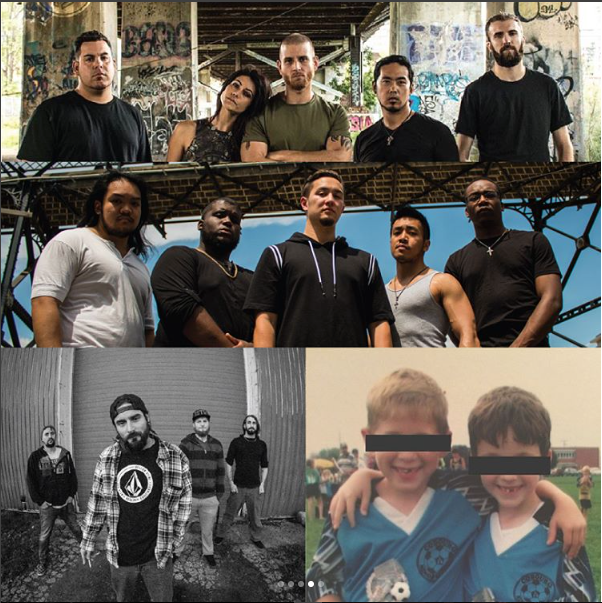 Below we'll list the entire lineup for RMF. We're going to be on the Rock showcase. See you there!
RMF is proud to announce its 2017 Showcase lineup. 
** POP SHOWCASE ** 
Friday April 7, 2017 - 7PM 
EP Taylor's - 12 Founders Dr. Oshawa, ON. 
All Ages / 19+ 
$10 at the door 
$25 All Access Passes available 
RSVP - https://www.facebook.com/events/228754764263137/ 
** Featuring **  
Panicland | Pop | Winnipeg, MB. 
http://www.panicland.net/ 
Sarah Mark | Pop | Toronto, ON. 
https://www.facebook.com/SarahMarkMusic/ 
Brandan Anthony | Rap | Oshawa, ON. 
https://soundcloud.com/brandananthonymusic/ 
Cam Bogle | Pop / R&B | Burlington, ON. 
@CamBogle 
Gabby Harvey | R&B | Brampton, ON. 
@ItsGabbyHarvey 
** PUNK SHOWCASE **  
Friday April 7, 2017 - 8:30PM 
The Atria - 59. King St E, Oshawa, ON. 
19+ 
RSVP - https://www.facebook.com/events/624209907769264/ 
** Featuring ** 
Matlock Expressway | Pop Punk | Oshawa, ON 
https://www.facebook.com/MatlockExpresswayBand/ 
Excuses Excuses | Punk Rock | Oshawa, ON. 
http://www.excusesexcuses.ca/ 
Sight By City | Pop Punk | Pickering, ON. 
https://www.facebook.com/sightbycity/ 
** ROCK SHOWCASE ** 
Saturday, April 8, 2017 - 7:00PM 
EP Taylor's - 12 Founders Dr. Oshawa, ON. 
All Ages / 19+ 
RSVP - https://www.facebook.com/events/1176323485800386/ 
** Featuring **  
Polarity | Prog Rock | Mississauga, ON. 
http://polaritymusic.com/ 
KOZEN | Hard Rock | Toronto, ON. 
http://kozen.org/ 
Howl Said The Wolves | Hard Rock | Guelph, ON. 
https://www.facebook.com/HowlSaidTheWolves/ 
cleopatrick | Blues Rock | Coburg, ON. 
https://cleopatrick.com/ 
** METAL SHOWCASE ** 
Saturday, April 8, 2017 
Venue TBA 
RSVP - https://www.facebook.com/events/710203542484657/ 
** Featuring **  
Ending Tyranny | Metalcore | Brantford, ON. 
https://www.facebook.com/EndingTyranny/ 
Throne to the Wolves | Metalcore | Oshawa, ON. 
http://www.thronetothewolves.band/ 
Her Majesty The King | Metalcore | Toronto, ON 
https://www.facebook.com/HerMajestyTheKing/ 
Becomes Astral | Death Metal | Guelph, ON. 
https://www.facebook.com/BecomesAstral/